What to do about your itchy dog.
Date Posted:9 October 2016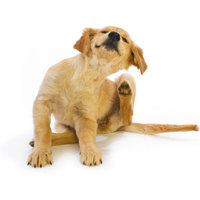 If your dog spends a large portion of his time scratching, he may have a condition known as pruritus, or itching, an unpleasant sensation that causes your dog to scratch or bite at himself. Commonly, the first sign of a potential allergy is itching, along with other warning signs such as feet licking, yucky ears and, sometimes, gastrointestinal issues.
Every dog is different, however, itching can and has been linked to food sensitivities which may be caused by certain ingredients in popular dog foods such as chicken, beef, soy and grains like wheat and corn which contain gluten.
How might a grain-free, limited ingredient diet help your dog?
Whilst a dog or cat doesn't have to exhibit any of the problems described above to benefit from a grain free food like Canidae, using a grain-free food with limited ingredients and, importantly, "novel" proteins have the potential to help your pet.
Foods such as:
PureSEA – Fish is an excellent protein source, relatively low in saturated fats and empty calories. It is also a novel protein and is naturally rich in omega 3 making it useful for allergy-prone animals.
PureSKY – contains fresh Duck and Turkey meal. Both highly digestible, novel proteins. As well as being rich in protein, duck also contains good iron levels; necessary for the proper functioning of red blood cells. The turkey in pureSKY is derived from flesh & skin.
PureLAND – contains Bison/Lamb. Bison is another unique protein source that can be useful for itchy/scratchy dogs. (Lamb originates in Australia and/or New Zealand).
PureELEMENTS – contains four animal proteins and may not be as useful to allergy-prone dogs that are proven sensitive to chicken protein. It is however, grain-free which makes it a viable alternative to those who react to grains like wheat.
Note: All Canidae formulas are made without the use of chemical preservatives and animal protein is farm raised without the aid of hormones and antibiotics.
---
Leave a comment