Bone Broth for Pets
Author: Deborah Date Posted:11 January 2019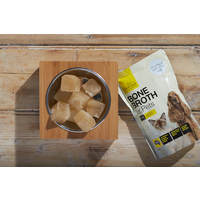 Happy New Year!
I hope you had a wonderful festive period and enjoyed some extra time with your furry family. The break over Christmas and New Year always gives me the opportunity to search for new healthy products to add to our product range. One product I am excited about is the Bone Broth for Pets by The Art of Whole Food.
The Art of Whole Food journey began in 2014 by nutritionist, Samantha Beard. Sam owned a boutique butcher shop and deli in Sydney, Australia. It was there when Sam first began making bone broths for people. She combined her love of cooking and whole foods and her ability to source the freshest quality produce she could find. Local families and people all over Sydney started travelling to her butcher shop to buy the nutritious bone broths. Sam no longer owns the butcher shop, however she continues to source the best quality, freshest local ingredients and makes all the bone broth products with much love and passion.
After seeing the benefits people were getting with her bone broths, in 2018 Sam launched her Pet Broth range to nourish and heal our pets. The Pet Broths are good for gut and digestive health, joint, skin & coat health, and general wellbeing. They are perfect for fussy eaters to entice them to eat or for pets recovering from illness. The Pet Broth range is made with the same quality ingredients that Sam uses in her people broths. Available in free range chicken and grass fed beef, these bone broths for pets are 100% Australian using only human quality ingredients. They will provide a great nutritional boost with a taste that your pet is sure to love!
Until 31 January 2019, I am offering 25% off these amazing broths so you can see how great they are. Just enter the code of petbroth at the checkout to redeem the discount. With summer here it's a great time to stock up and freeze in ice cube trays for a tasty, cooling treat. These broths are shelf stable so I can ship Australia wide!
Shop the Bone Broths here.
---
Leave a comment